2016
2017
Apple
MacBook
Pro
A1708
SSD
Data
Recovery
The 2016 - 2017 macbook pro has a removable SSD which is propreitory to Apple. Here we have made a customer pci adapter to get users data after the macbook failed to turn on.

Customer notes:


My Macbook Pro suddenly shut down and is not turning on, no chime, no Apple logo. There was no exposure to water. (However, I had kept a steaming bowl of hot water right next to the laptop.But this was in an open kitchen)
The Pro had less than 10% charge when it suddenly shut down. I charged it for another 10 minutes and tried to switch on, but no luck. I charged it completely till the magsafe indicator turned green, still does not turn on. So assumed that the battery is charging fine. I opened the mac and saw no visible corrosion or moisture(two tiny dots below the battery case are white and haven't turned red)
I have tried the following already.
1. SMC reset - With the magsafe adapter connected, when I do the reset the charge indicator turns green from orange.
2. Disconnected and reconnected the battery connector - still no life.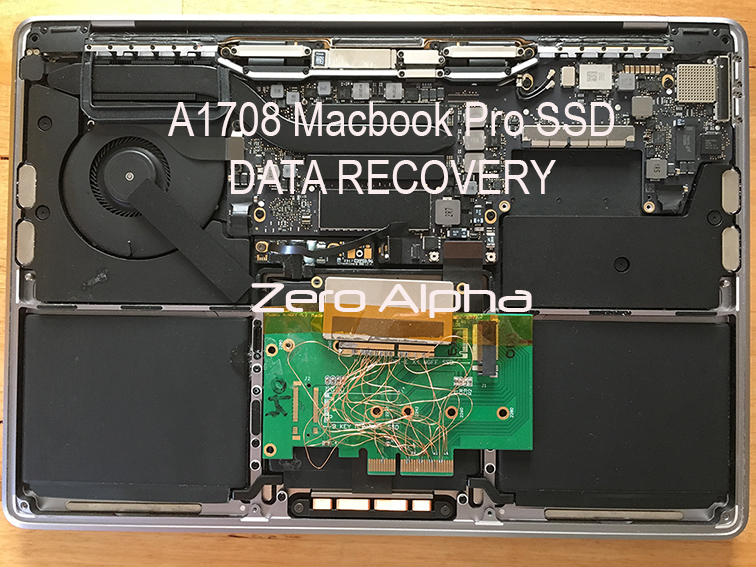 MacBook Pro 13-Inch "Core i5" 2.0 Late 2016 2.0 GHz Core i5 (I5-6360U)
Intro. October 27, 2016 Disc. June 5, 2017
Order MLL42LL/A* Model A1708 (EMC 2978)
Family Late 2016 13" ID MacBookPro13,1
RAM 8 GB* VRAM 1.5 GB*
Storage 256 GB SSD* Optical None*
Complete MacBook Pro 13-Inch "Core i5" 2.0 Late 2016 Specs
MacBook Pro 13-Inch "Core i7" 2.4 Late 2016 2.4 GHz Core i7 (I7-6660U)
Intro. October 27, 2016 Disc. June 5, 2017
Order BTO/CTO Model A1708 (EMC 2978)
Family Late 2016 13" ID MacBookPro13,1
RAM 8 GB* VRAM 1.5 GB*
Storage 256 GB SSD* Optical None*
Complete MacBook Pro 13-Inch "Core i7" 2.4 Late 2016 Specs
MacBook Pro 13-Inch "Core i5" 2.3 Mid-2017 2.3 GHz Core i5 (I5-7360U)
Intro. June 5, 2017 Disc. July 9, 2019
Order MPXQ2LL/A* Model A1708 (EMC 3164)
Family Mid-2017 13" ID MacBookPro14,1
RAM 8 GB* VRAM None
Storage 128, 256 GB SSD* Optical None*
Complete MacBook Pro 13-Inch "Core i5" 2.3 Mid-2017 Specs
MacBook Pro 13-Inch "Core i7" 2.5 Mid-2017 2.5 GHz Core i7 (I7-7660U)
Intro. June 5, 2017 Disc. July 9, 2019
Order BTO/CTO Model A1708 (EMC 3164)
Family Mid-2017 13" ID MacBookPro14,1
RAM 8 GB* VRAM None
Storage 128, 256 GB SSD* Optical None*
Complete MacBook Pro 13-Inch "Core i7" 2.5 Mid-2017 Specs