MacBook
Pro
2016
2017
Data
Recovery
A1706
A1707
The 2016 - 2017 macbook pro has a non removable SSD drive. Data recovery can't be accomplished using traditional methods of removing the drive. Zero Alpha data recovery has proprietory techniques to recover data from the A1707 and A1706 Macbook models.

Customer notes:


My Macbook Pro suddenly shut down and is not turning on, no chime, no Apple logo. There was no exposure to water.
The Pro had less than 10% charge when it suddenly shut down. I charged it for another 10 minutes and tried to switch on, but no luck. I charged it completely till the magsafe indicator turned green, still does not turn on. So assumed that the battery is charging fine. I opened the mac and saw no visible corrosion or moisture(two tiny dots below the battery case are white and haven't turned red)
I have tried the following already.
1. SMC reset - With the magsafe adapter connected, when I do the reset the charge indicator turns green from orange.
2. Disconnected and reconnected the battery connector - still no life.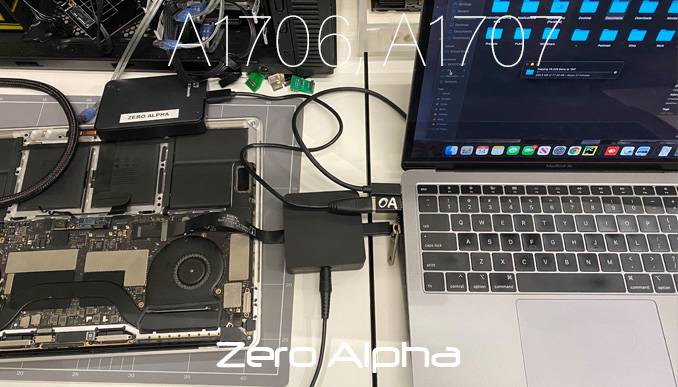 MacBook Pro 15-Inch "Core i7" 2.6 Touch/Late 2016 2.6 GHz Core i7 (I7-6700HQ)
Intro. October 27, 2016* Disc. June 5, 2017
Order MLH32LL/A* Model A1707 (EMC 3072)
Family Late 2016 15" (Touch Bar) ID MacBookPro13,3
RAM 16 GB VRAM 2 GB*
Storage 256 GB SSD* Optical None*
Complete MacBook Pro 15-Inch "Core i7" 2.6 Touch/Late 2016 Specs
MacBook Pro 15-Inch "Core i7" 2.7 Touch/Late 2016 2.7 GHz Core i7 (I7-6820HQ)
Intro. October 27, 2016* Disc. June 5, 2017
Order MLH42LL/A* Model A1707 (EMC 3072)
Family Late 2016 15" (Touch Bar) ID MacBookPro13,3
RAM 16 GB VRAM 2 GB*
Storage 512 GB SSD* Optical None*
Complete MacBook Pro 15-Inch "Core i7" 2.7 Touch/Late 2016 Specs
MacBook Pro 15-Inch "Core i7" 2.9 Touch/Late 2016 2.9 GHz Core i7 (I7-6920HQ)
Intro. October 27, 2016* Disc. June 5, 2017
Order BTO/CTO Model A1707 (EMC 3072)
Family Late 2016 15" (Touch Bar) ID MacBookPro13,3
RAM 16 GB VRAM 2 GB*
Storage 256, 512 GB SSD* Optical None*
Complete MacBook Pro 15-Inch "Core i7" 2.9 Touch/Late 2016 Specs
MacBook Pro 15-Inch "Core i7" 2.8 Touch/Mid-2017 2.8 GHz Core i7 (I7-7700HQ)
Intro. June 5, 2017 Disc. July 12, 2018
Order MPTR2LL/A* Model A1707 (EMC 3162)
Family Mid-2017 15" (Touch Bar) ID MacBookPro14,3
RAM 16 GB* VRAM 2 GB*
Storage 256 GB SSD* Optical None*
Complete MacBook Pro 15-Inch "Core i7" 2.8 Touch/Mid-2017 Specs
MacBook Pro 15-Inch "Core i7" 2.9 Touch/Mid-2017 2.9 GHz Core i7 (I7-7820HQ)
Intro. June 5, 2017 Disc. July 12, 2018
Order MPTT2LL/A* Model A1707 (EMC 3162)
Family Mid-2017 15" (Touch Bar) ID MacBookPro14,3
RAM 16 GB* VRAM 4 GB*
Storage 512 GB SSD* Optical None*
Complete MacBook Pro 15-Inch "Core i7" 2.9 Touch/Mid-2017 Specs
MacBook Pro 15-Inch "Core i7" 3.1 Touch/Mid-2017 3.1 GHz Core i7 (I7-7920HQ)
Intro. June 5, 2017 Disc. July 12, 2018
Order BTO/CTO Model A1707 (EMC 3162)
Family Mid-2017 15" (Touch Bar) ID MacBookPro14,3
RAM 16 GB* VRAM 2, 4 GB*
Storage 256, 512 GB SSD* Optical None*
Complete MacBook Pro 15-Inch "Core i7" 3.1 Touch/Mid-2017 Specs