RAID DATA
RECOVERY
We get files back from server failure

Has your server stopped working?

Offline, degraded or corrupted?

We can help get your files back!

BRISBANE | SYDNEY | MELBOURNE
---
RAID
Data
Recovery
Advice
We recommend in all cases of data loss to leave your RAID unplugged. This will prevent further damage. Sometimes data loss can be distressing. You can call our super friendly hotline for advice on 1300 001 211. We will be able to provide you with reassuring advice on what to do next.
Avoid unqualified technicians or internet suggestions. Most of the these people have good intentions to help you but their unqualified advice usually leads to highly risky experiments and further data loss.
Leave all drives in their original locations with original cables. Do not change any settings. A RAID should be backed up before changing hard drives as the increased load to rebuild an array can cause secondary failures.
How to
recover
data
from
a
failed
RAID
Our data recovery lab will diagnose the problem with your NAS, SAN or RAID first. We provide a FREE test & quote. Our pricing is the lowest price guaranteed. As Australia's leading data recovery service we will then have an action plan to get your files back. Each hard drive in an array will get individually tested. Hard drives can be SATA or SAS. We keep a sophisticated journal of all server controllers and parameters for speedy recoveries.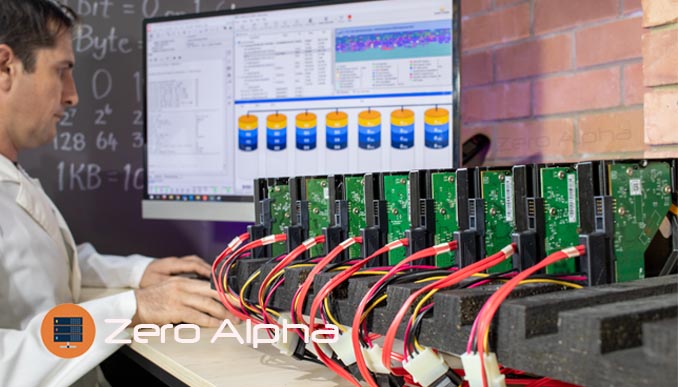 ---
BRISBANE
Open 9am - 5pm Monday to Friday. Free Test & Quote while you wait
Customer
Service
Hotline:
---
BRISBANE
NORTHSIDE
Open 9am - 5pm Monday to Friday. Free Test & Quote while you wait
Opposite Ice Skating
Open Maps
Customer
Service
Hotline:
---
SYDNEY
Open 9am - 5pm Monday to Friday. Free Test & Quote while you wait
We are on Level 9. Exit the elevator and turn RIGHT
Open Maps

Customer
Service
Hotline:
---
MELBOURNE
Open 8:30am - 5:30pm Monday to Friday. You can drop off your device so it can securely reach us or we can provide you with free shipping direct to our lab. 
Customer
Service
Hotline:
---
RAID
Data
Recovery
Prices
View all our data recovery prices

The
Most
Common
Causes
of RAID
Failure
---
How
Long
Does
Data
Recovery
Take?
Standard service: 1 ~ 4 weeks
Urgent service: 1 ~ 3 days & expedited parts delivery +$249
Emergency 24 hour service +$395
RAID
Brands
WESTERN DIGITAL
SEAGATE
SAMSUNG
TOSHIBA
LACIE
FUJITSU
HITACHI
Why
choose
Zero
Alpha
Data
Recovery?
Experience matters! Professional data recovery service since 1999
We have the World's most advanced data recovery technology
Lowest priced affordable data recovery in Australia.
Most preferred data recovery company for Home, Business & Government
If it stores data we can help regardless of the problem
100% Aussie owned & operated.
We give an honest FREE appraisal of your RAID
We're not just computer science nerds at Zero Alpha, our team is fun and passionate about what we do.
First company in Australia officially certified in data recovery technology
University qualified in computer science.
Ready
to
start
the
data
recovery
process?
What are you waiting for? Submit a job and get your data back now!
Step 1: Drop off or send us your RAID flash drive
Step 2: Free Evaluation & Quote
Step 3: Return your files
For deliveries please use padding and a box.
---
OUR CLIENTS
Reserve Bank of Australia
Enterprise RAID Server Data Recovery
Queensland Police Service
Criminal Investigation Branch
High Profile Forensic data recovery
Hospitals, Universities and Education.
Apple & Windows Server RAID recovery.
Fire & Emergency Services.
Air Traffic Control Tower
Hard disk drive data recovery
Data recovery for Studios & Producers
of popular TV Shows
---